We are leaders in the industry
Buying a house and need a home inspection? Let our fully certified home inspectors help find the place that's right for you.
A Complete Home Inspection is Essential Before Purchasing a Home
A complete home inspection is recommended and very important for anyone looking to purchase or sell a home. Purchasing a property is often a stressful situation and our job at Twin Termite is to provide every customer with a professional and thorough home inspection that will report the status of all the components of the property, so the purchaser and buyer will know exactly what is damaged and/or in need of repair.
A home inspection can detect issues that are not seen on a simple walk-through or visit to a property. After our home inspection, a report will be sent to the client within 24 hours that will detail the repairs, damage, and working order of the property
Homeowners
Protect your investment. Understand seasonal home maintenance. Increase your home's value.
Agents
Our goal is to support and protect you as an agent.
Homebuyers
Purchase with confidence. What is a home inspection? How can you become an educated buyer?
Certified Home Inspection Services
A home inspection is only as good as the inspector. That's why Twin Termite has a team of the most experienced and trained home inspectors in California. Whether you're a homebuyer, seller, or homeowner, we'll provide you with a detailed description of a home's condition so you can move forward confidently and with peace of mind.
We understand that time is limited — especially during the escrow process. We're able to work with tight timetables and can typically complete a property inspection within 48 hours of your call. Moreover, we'll provide a professional report of our findings the next business day after the inspection.
Why settle for a subpar inspection when you could have a superior one? We've inspected thousands of homes — and yours could be the next. Request an inspection online, or contact us today at (877) 794-8946 to get started.
What to expect from a home inspection:
All inspections are conducted per the standards of practice set forth by InterNACHI.
An inspector will begin with the exterior of the home. A thorough inspection will be made of visible and readily accessible portions of the foundation, exterior walls, fixtures, windows, and roof. Inside the home, Twin will inspect accessible outlets, doors, windows, cabinets, bathroom fixtures, and kitchen appliances. We test the HVAC system to ensure proper functionality for all seasons.
Generally, inspecting the entire home takes about 1 1/2 hours. Afterward, the inspector will spend 30 minutes walking through the home with you reviewing findings, general home maintenance tips and answering any questions. Our reports are laid out in narrative descriptions of findings including full color photos whenever possible.
Request an inspection online, or contact us today at (877) 794-8946 to get started.
Frequently Asked Questions
⮟
Why do I need a home inspection?
The purchase of a home is one of the single largest investments most people will ever make. You should be as informed and educated as you possibly can when considering a home purchase. A home inspection can provide that education. Many mortgage lenders do require or strongly recommend a home inspection be performed. A home inspection lets you know the condition of the property as well as identifies the need for any repairs before you buy, so that you can make an informed purchasing decision. A home inspection also informs the buyer of the positive aspects of the home, as well as any maintenance that may be recommended to keep the house in good shape and to keep all major systems operating smoothly. After the inspection, you will have a much better understanding of the property you intend to purchase. A home inspection is also valuable for homeowners for identifying any potential problems that may need tending to, as well as for learning preventive maintenance measures to help avoid any costly future repairs. If you intend to put your house on the market, a home inspection could identify items that would be called out on a buyer's inspection, which allows you to be proactive in making repairs, thereby putting your house in a more sellable position.
⮟
What is the cost of a home inspection?
The cost of a home inspection for a single family home varies due to the geographical location, as well as its size and age. The cost can also vary when additional inspection services are requested, such as septic, well, radon or pest inspections. However, you should not let cost be a factor in determining whether or not to have a home inspection performed or in choosing your home inspector. You should consider the money spent as an educational investment that will more than pay for itself. The most important consideration should be the qualifications, training and experience of the inspector, as well as any professional affiliations he or she may have. Get a free, instant, online home inspection price estimate!
⮟
What does the home inspection entail?
There are four basic steps to the home inspection. First, the inspector arrives at the property, makes general introductions, explains what is going to take place, and asks about any special questions or requests.
Next, while the inspection agreement is being reviewed, the inspector will make a quick circuit of the property sizing up the scope of the inspection. There will then be an in-depth walk-through inspection with the client. This involves inspecting all visible areas and reviewing all accessible items and areas, including the heating system, central air conditioning system, interior plumbing, electrical systems, the roof, attic space and all visible insulation, the walls, ceilings, floors, doors, windows, basement or crawlspace area, and the foundation and all visible structural components. Any questions or items of special interest regarding a particular system or structural component are usually addressed at this time.
Finally, a check of the entire property is made to verify that the condition of the property is the same as when the inspection started.
After this last circuit, the inspector will complete the hard copy of the inspection report. All deficiencies and maintenance recommendations will be noted by the inspector and included with the final report.
⮟
Do I need to attend the inspection?
It is not necessary that you attend the inspection. However, U.S. Inspect strongly recommends that you or your representative attend the inspection so that you are properly informed of the investment that you are considering. Given appropriate access, our inspector can perform the inspection and generate an inspection report, which will be delivered to you. Again, it is strongly recommended that you attend because you will be able to accompany the inspector and visually learn about the condition of your house, how the various systems operate and how to properly maintain them. You will also have a better understanding of the contents of the report if you are able to see it from the home inspector's perspective and can ask him/her questions as they arise.
⮟
How long does the inspection take?
An average home inspection will take between 2 and 3+ hours, depending on the size of the house. Larger and more complex houses will take longer for the inspector to completely and accurately evaluate. Another factor that may affect the inspection time is the relative condition of the components at the property. If the house and appliances have not been properly maintained, the inspector may need additional time to explain to the buyer what options they have to either maintain or replace the items.
⮟
What are the estimated life spans of all the systems in my house?
There is no accurate method to determine exactly how long a particular system or component is going to last. This is due to a number of reasons: the geographic area; the physical location of the units; and the climate and weather. This is similar to asking how long a car lasts. There are too many variables to determine the life span of items that need maintenance and have thousands of integral components. For example, with heating systems, many factors can directly affect the life span of the appliance. If the furnace is located in an unconditioned crawlspace or in the attic, the elevated humidity levels can rapidly cause heat exchangers to prematurely rust. In addition, when furnaces are used in the colder months, the differences between the low air temperature and the high temperature of the heat exchanger can cause expansion/contraction cracking that can lead to leaks in the heat exchanger. Roofs, on the other hand, can be affected by factors like the amount of direct sunlight, adequacy of attic ventilation, number of layers of roofing material, as well as the quality of the roofing material itself. Climate and weather can affect the life of the roof also. For instance, in the West and Southwest parts of the U.S., asphalt composition shingles have a tendency to last no more than 10 to 15 years on average, whereas in the Northeastern states and around the Great Lakes area, the same roofing material can last 18 to 22 years or longer.
| | | |
| --- | --- | --- |
| System | Component | Estimated Design Life |
| Roofing | Asphalt Composition Shingle | 18 – 22 Years |
| | Asphalt Composition Rolled Roofing | 10 – 15 Years |
| | Built-Up Roofing | 10 – 15 Years |
| | Elastomeric / Rubber Roofing | 10 – 15 Years |
| | Wood Shakes / Shingles | 15 – 25 Years |
| | Clay / Terra Cotta Tiles | 25 Plus Years |
| | Concrete / Asbestos Cement Tiles | 25 Plus Years |
| | Slate Roofing | 50 Plus Years |
| | Metal Roofing (flat, standing-seam, corrugated) | Indefinite |
| | Plastic / Fiberglass corrugated panels | 15 Plus Years |
| | Glass Panels (sun rooms, etc.) | 15 Plus Years |
| | Gutters and Downspouts | 15 – 20 Years |
| Heating | Boiler (Steam / Hydronic) | 25 – 40 Years |
| | Forced Air Furnace – Gas / Oil | 15 – 35 Years |
| | Forced Air Furnace – Electric | 15 – 25 Years |
| | Electric Resistance, Baseboard | 15 – 25 Years |
| Cooling | Heat Pump | 10 – 15 Years |
| | Central Split System | 10 – 15 Years |
| | A/C Compressor | 10 – 15 Years |
| | Window A/C Unit | 10 – 15 Years |
| | Evaporative (Swamp) Cooler | 10 – 20 Years |
| Plumbing | Water Heater – Electric | 12 – 18 Years |
| | Water Heater – Gas / Oil | 10 – 15 Years |
| | Solid Waste Pump | 5 – 10 Years |
| | Sump Pump | 5 – 8 Years |
| | Submersible Well Pump | 10 – 15 Years |
| | Shallow or Deep Well Jet Pump | 10 – 15 Years |
| Kitchen / Appliances | Dishwasher | 5 – 10 Years |
| | Garbage Disposal | 5 – 10 Years |
| | Cook Top – (Electric / Gas) | 15 – 20 Years |
| | Range / Oven | 15 – 20 Years |
| | Refrigerator | 5 – 25 Years |
| | Trash Compactor | 5 – 10 Years |
| | Ventilator / Draft Hood | 8 – 12 Years |
| | Washing Machine / Clothes Dryer | 8 – 12 Years |
| Miscellaneous | Chemical Termite Treatment (subterranean) | 5 Years |
| | Fumigation for Drywood Termites | 2 Years |
| | Radon Mitigation System | Life of the fan |
⮟
Why do I need a home inspection on a house that I am having built?
An inspection on a new home is important for the buyer to level the playing field. As in any job, there are shortcuts and tricks of the trade that someone who is unfamiliar with them can easily miss. A home inspector is better able to see nuances that may not be readily visible to an untrained eye. You also need an inspector to offset the builder's or contractor's interest. There is actually quite a lot of information about a home that most people either take for granted or simply don't know. An inspection of the house before the drywall is installed, otherwise known as a "pre close-in" inspection, provides a level of quality assurance for the buyer that many builders don't usually provide for their contractors. This inspection gives you a better chance of identifying and correcting potential problems when they are much easier and less expensive to fix, before they become physically or financially prohibitive, such as moving a wall so that kitchen cabinets don't protrude into a doorway opening, or moving electrical receptacles so they are placed where you need them.
⮟
Can I store items in my attic?
Before you store anything in your attic, you need to ensure that the attic framing is designed and capable of supporting the loads you intend to place there. There are basically two methods of construction in the attics of single family dwellings–conventional or stick-framing, and engineered or truss-framing. Conventionally framed roofs consist of rafters or boards that make up the slope of the roof; ceiling joists that make up both the floor of the attic space and the ceiling framing for the floor below; and the ridge board, which provides both an anchoring point and additional support to the tops of the rafters. Conventional roof framing is usually made up of large stock dimensional lumber such as 2×8, 2×10, or 2×12 boards. Trusses are engineered products that are designed and built to combine the rafter, ceiling joist and ridge all into one component, and are usually built of 2×4 lumber secured together using perforated metal plates at all joints. Unless they are specifically designed for carrying the additional load, trusses will not adequately support your stored items. You will experience cracking and damage to the finished ceiling in the floor below, as well as possible structural damage to the trusses themselves. Conventionally framed roofs may be more forgiving, however, a licensed contractor or structural engineer should be consulted before making any modifications to your attic framing. Practically speaking, attics, unless reinforced, well vented, or designed as conditioned space, are generally not an ideal place to store items. Temperatures may vary too much, pests may be involved, and the risk of falling through the ceiling is greatest in the attic. Not to mention the accelerated deterioration heat will have on your paper momentos and Kodak pictures.
⮟
What are expansive soils? Can they really cause a great amount of damage in a short time?
Expansive or reactive clay soils are known to cause adverse effects on residential structures. Expansive soil expands and contracts, often times excessively, due to changes in the moisture content of the soil. These changes can cause structural problems through differential movement of the structure. Learn more about expansive soils.
⮟
What are the problems with negative grading and how do I fix it?
Grading or slope of the land is important around the home because it will determine which direction surface water will flow. Negative grading is when the surface slopes towards the foundation wall. This can allow surface water to run directly against the wall and potentially seep into the basement or crawlspace. Regrading the area around the foundation walls repairs the majority of the basement water penetration problems. Many problems occur when people install flower gardens or put mulch up against a foundation wall. In order to properly fix a negative grading condition, the top, porous soil must be removed in the affected area and well-compacted, non-porous clay or similar soil must be added and re-graded. The newly added soil around the perimeter of the home should slope away (at a minimum rate of one inch per foot for the first 6 feet) from the house to prevent rainwater from accumulating next to the foundation. Learn more about grading and controlling surface water.
⮟
What is a failed insulated glass seal and why is it considered a defect?
An insulated glass seal is a window made up of two or more layers of glass held together in a track or frame. A gasketed channel separates the two pieces of glass, and the space between the panes is filled with a moisture-free, inert gas such as nitrogen. When a gasket fails, the inert gas between the panes escapes to the exterior of the window and regular, moisture-laden air is drawn into the space. This does not greatly affect the insulation value of the window but will affect the visibility through the glass. When this happens, the window will look dirty or foggy and you will not be able to clean it off. This is because the fogged or filmed surface will be between the two panes of glass and not on the outer surfaces. If there is a lot of moisture in the air you will also see condensation on the interior of the window. There is no warning device on a window or door that will indicate when the seal will fail. Most window manufacturers have some kind of warranty that will cover possible seal failures, but the length of time the warranty covers varies. The longer the failed seal is present, coupled with major temperature differences between inside and outside environments, the more obvious the failure will become. Learn more about windows.
⮟
Can you tell me how to fix the foundation wall?
Before fixing a foundation wall, you should first determine the problem. There are many possible conditions, ranging from shrinkage or step cracking, which could be repaired by epoxy injections or re-pointing the mortar joints, to major differential settlement that would require costly and involved repairs. A home inspector can identify what the symptoms may indicate and where to start to remedy the problem. If it is something that is in need of a specialist, he/she will be in a better position to make this type of call. Regardless of the degree of the cracking or movement noted, if you are concerned about how to fix or repair the damage, a home inspector may be able to identify what the problem is and what repairs might be needed.
⮟
How often should I seal my blacktop driveway?
Ideally, an asphalt driveway should be coated every 2 years. However, with the number of different products on the market for coating driveways, it is best to check with the manufacturer's recommendations.
⮟
Why is it important to enter a service agreement for my furnace?
Murphy's Law says: "The heat is going to quit on the coldest day of winter, and the air conditioning is going to quit on the hottest day of summer." One of the greatest benefits of having a service agreement is that you are considered a paying customer. In the event that your heating or cooling quits when you need it most, the paying customer will usually get serviced before the occasional caller is even considered. Another benefit is that there is usually a service or maintenance plan that is included with the agreement. These plans regularly include things like annual maintenance cleaning, charging of the air conditioning system, cleaning of the blower, and filter replacement.
⮟
What things should I take into consideration when planning to finish my basement?
If you are thinking of finishing your basement to provide additional living space, you need to take into account every major system that is going to be impacted or modified. These include the electrical system (Is the existing electrical service capable of handling the additional circuits that are going to be installed?); the plumbing (Do you plan on installing an additional bathroom or bar sink?); the heating and air conditioning (all finished/livable rooms need to have a permanent source of heat installed), as well as any possible concerns with water penetration or leakage into the basement.
⮟
What is a double-tapped circuit?
Double-tapping, also known as "double-lugging," is a condition where there is more than one wire conductor terminated in a service panel fuse or circuit breaker. Double-tapping is permissible only if the terminals are identified for that use. Most breakers and fuse connections are designed to hold and handle just a single incoming circuit, although there are some manufacturers, such as Square-D™, that market breakers designed to allow two wires to be securely attached. Any time repairs are performed on or within the electrical system and its components, a licensed electrician should be contacted to make these repairs.
⮟
How hard is it to upgrade the electric service in my house?
Upgrading the electric service is an involved procedure that will include one or all of the following: replacement of the service entrance cable; upgrade and possible replacement of the main disconnect panel; installation of an additional branch circuit over current devices (commonly known as fuses and circuit breakers); and rewiring the branch circuit connections at the main disconnect panel. This is a question that you could ask an inspector and receive advice that may help you determine a reasonable plan of action. Anytime repairs are performed on or within the electrical system and its components, a licensed electrician should be contacted to make these repairs.
⮟
Do you carry errors and omissions insurance?
⮟
Is the inspector licensed or certified?
Not all states require home inspectors to be licensed. However, in those states where it is required, our inspectors are licensed. In those states that do not require licensing, all of our employee-inspectors are members of professional trade associations, such as the National Association of Home Inspectors (NAHI) and American Society of Home Inspectors (ASHI) or are in the process of becoming members. Many of our consultants are also trained and nationally licensed to perform radon and termite inspections in their operating areas.
⮟
How does a home inspection differ from a code inspection?
A typical buyer's inspection is an introduction to the house and is focused on informing and educating the client about the property. A code inspector, on the other hand, works for the local municipality and enforces the local and state codes with little or no concern for the buyer's understanding of these codes. A code inspection does not communicate whether or not the house was well constructed. The general home inspector is usually aware of the local codes, and the inspection and report will consider these codes. However, the scope of a general home inspection is targeted more at providing an informative, detailed and objective evaluation of the house so that the buyer understands the bigger picture of the home that he/she is considering to purchase.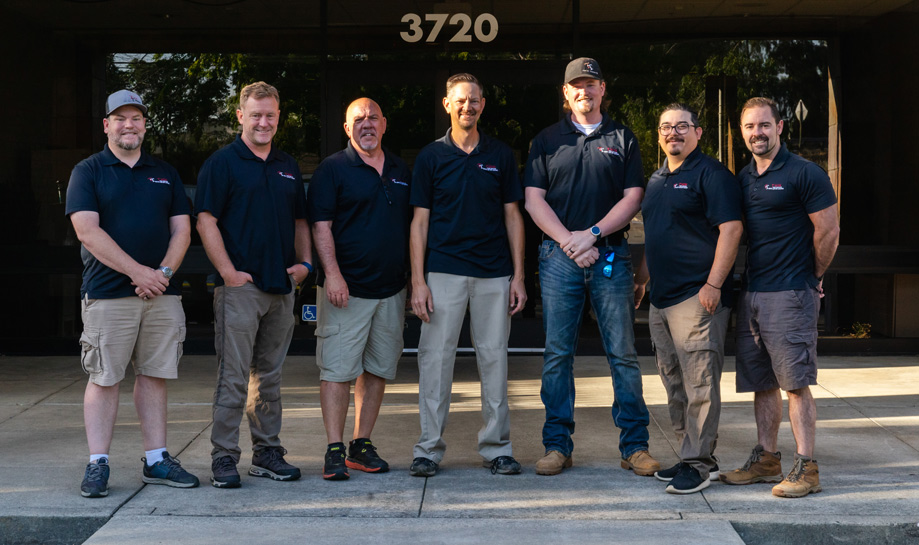 Testimonials
"
Twin Termite did the inspection of my new home during the buying process and I was impressed with the detailed report... very professional. The home is over 30 years old and they included in the report an estimate for repair of some dry rot areas on the exterior.

I took them up on their offer and I'm glad I did. Setting up the work with their office was easy, the crew showed up on time and did a great job.

I couldn't be more please with the work.
I am a Realtor and have been using Twin since 2014. They are an exceptional company with whom to work; both, home and pest inspections! I am obligated to give my clients choices; but, have found that when we have used other companies, the standard of work and service have not been the same. I strongly urge them to use the most trusted vendors on my team - Twin is the on the top of that list for me!
Husband noticed some type of winged bug coming up through a crack in our garage floor. We called Twin Termite & Pest Control and after an inspection--we have termites!! An appointment was made and the technician was very understanding, polite & professional in our termite eradication! He explained what we would see and expect in the coming days and weeks from this treatment in killing the termites. Thank you so much!!
I needed a pest inspector on a home I am in the process of buying. Twin Termite was very accommodating about getting a pest inspector out on quite short notice (and in a holiday week!), which I really appreciated. It was super easy to take care of billing over the phone, and I got an unexpected discount for pre-paying ahead of the inspection - nice surprise! Paul arrived ahead of schedule, and was very professional. Once he completed his inspection, he explained clearly what he observed, and I came away with a good understanding of what the house might need before and/or after closing.
Previous
Next